Vida Stable Bedding and Vida Stable Pellets
A natural choice Good for your horse. Good for the environment.
For many years, Vida has been supplying high-quality stable bedding and stable pellets to horse owners throughout southern Sweden. Our stable bedding is very popular with horse owners and is also used in other animal husbandry.
Vida Stable Bedding is made of wood shavings that are cleaned of dust, and are particularly good for performance horses and horses with respiratory problems. Vida Stable Pellets were created for horse stalls and other stable environments.
Vida's natural animal bedding is optimal for hygiene and cleanliness in stable environments. The bedding is made from wood shavings from our own sawmills, cleaned of dust and completely free of chemical additives and treated timber. It is made from renewable Swedish forest raw materials, predominantly fir. Good for animals, good for the environment.
Satisfied customers
Many people within Swedish horse-riding and trotting use Vida Stable Bedding. Peter Untersteiner, one of Sweden's leading horse trainers is one such person.
"Vida Stable Bedding contains the least dust of any such product on the market, the high-quality shavings have a consistent quality, and quality is important for our team at Grevlundagården."
Lisen Bratt Fredricson
"A good environment in the stable is important for both the horse for those of us working there. Vida Stable Bedding meets our needs – high quality and good service during ordering and delivery"
Malin Baryard
"Vida's dust-free, quality shavings mean that my horses can perform at the their best. And you get great service and reliable delivery too."
Thomas Dahlborg, catch driver and trotting trainer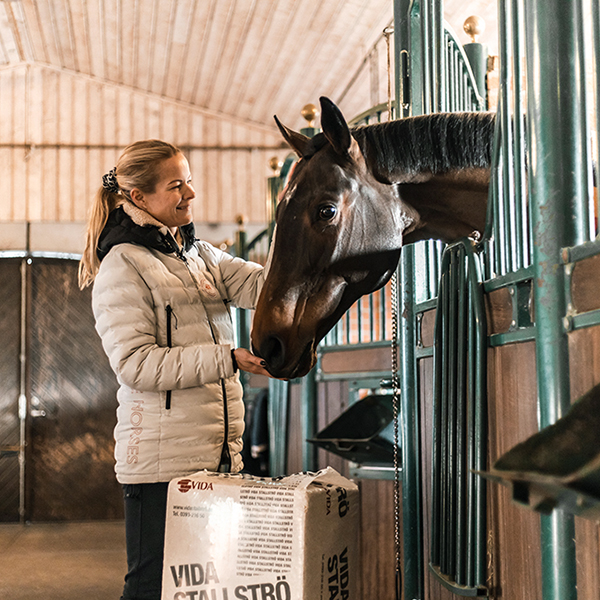 Free delivery to your door
Vida delivers stable bedding and stable pellets on pallets directly to your door within our delivery areas, for orders of at least 5 pallets of stable bedding or 3 pallets of stable pellets. We deliver within 10 working days after order and handle unloading on site by truck. Always free delivery.
Vida Stable Bedding comes in bales and is delivered on B-grade pallets of 21 bales per pallet. One bale weighs 25kg. We have a recycling system for our B-grade pallets.
Sustainable deliveries are important to Vida and we take responsibility for our environmental impact and emissions. Vida chooses the fuel with the least negative impact on the environment, which is why we use "Evolution Diesel" from Preem. This fuel can reduce fossil-based CO2 emissions by up to 25%.
Buy in our web shop
Order Vida Stable Bedding, Vida Stable Pellets and Vida Agricultural Bedding, quickly and easily via our web shop.
How to bed your horse stall with stable pellets
Vida Stable Pellets are a quality product that are suitable for use in horse stalls and other stable environments. Here's how you use stable pellets:
1. Empty the contents of the sack and spread out the pellets in an empty stall.
2. The pellets should cover the entire floor surface.
3. Pour water directly onto the pellets. Wait until the pellets start to swell, they should become 3 – 4 times their original volume.
4. Use a pitchfork or similar to spread them out in the stall.
Alternatively: Pour water directly into the pellet sack. Thereafter proceed as above.
Estimated consumption of stable pellets for one horse stall
Estimate approx 7 – 8 sacks and 5 – 10 litres of water per sack for a stall of around 10m2 the first time you fill it. Thereafter, add pellets and water as needed.
Frequently asked questions about pellets
How heavy is a sack of Vida Stable Pellets?
A sack of stable pellets weighs 16kg. There is a total of 52 sacks per pallet, a total weight of 832kg.
Can Vida's stable bedding be mixed with stable pellets?
It is fine to mix our stable bedding with our stable pellets. How people choose to use these products varies a lot from stable to stable. Find a way that best suits you and your horse.
How much stable pellets should I use per filling
Estimate around 1 – 2 sacks per week. This can vary with the seasons and with the cleanliness of the horse.
How much water should I pour onto the stable pellets?
Estimate around 5 – 10 litres of water per sack. If you use tepid or warm water the pellets will expand faster.
How do I muck out a box that has stable pellets?
You muck it out in the same way as when you use stable bedding. When the horse urinates, a clump will be formed making it very easy to muck out.
Which is cheapest – stable bedding or stable pellets?
The reactions we have received from our customers is that it is about even.
What is the difference between Vida's fuel pellets and Vida's stable pellets?
There is no difference in the content. However, the stable pellets are less compact so that they loosen faster when water is poured onto them. For this reason, stable pellets are not suitable for burning.
Contact us to find a reseller
We would be happy to tell you more about Vida's natural animal bedding.
Vida Energi AB
Äspåsvägen 20, 335 03 Hestra,
Sågverksvägen, 567 93 Hok,
Sweden +46 393-216 50
vida.energi@vida.se
Vida Energy
Erik Dahl
Vice CEO Vida AB, CEO Vida Energi
+46 472-439 40
+46 70-826 64 36
Close