Vida's sawmill in Borgstena saws and planes spruce timber for use as structural timber and for roof trusses. The main market for the timber is UK.
Number of employees: 110 employees
Production of timber per year: 290,000m3 (26 loads per day)
Production of wood chips/energy prod: 690,000m3 loose measurement (29 loads per day)
Markets:
60% UK
20% Sweden
20% Other export
Measurement station/Timber sorting
Every day around 59 vehicles and loads of spruce timber (the equivalent of 10,200 logs per day) are offloaded at Vida in Borgstena. The logs are measured and graded by staff from the independent measuring association VMF. Measuring/grading here is the basis for payment to forest landowners.
Our average distance for purchasing is 70 km. The timber is sorted by diameter and length into some 40 sawing grades that are sawn in batches without resetting the sawing line.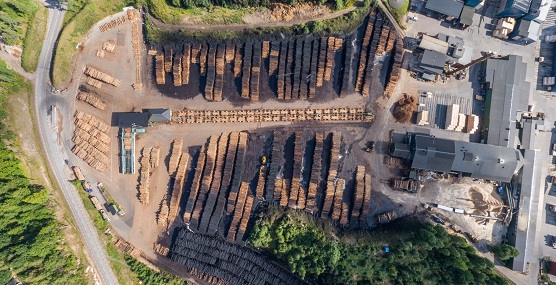 Sawing line
The sawing process starts with the 3-dimensional measuring of every log. Based on this, the computer calculates how the log should be sawn to achieve the highest timber value from the log. The sawing line is currently able to process up to 20 logs per minute, an equivalent of two planks per second coming out of the saw! The sawing line operates in two shifts, which provides approx 1,500m3 of sawn timber every day.
About 55% of the volume of the log becomes timber, some 15% becomes sawdust and bark and around 30% becomes cellulose wood chips that are used to make paper. Sawdust and bark from the process are used as fuel for heating our premises and timber kilns. In the timber kiln, fans blow 80-degree warm air through the timber pack for around 3 days.
Planing
To achieve the measurement accuracy required in industrial construction, and for a flatter and more easy-to-use surface, almost all timber is planed. The maximum that can be fed through the planing machine is 300 metres per minute. The planing machines operate around the clock in 3 shifts. In conjunction with planing, machines check the strength of each plank, in order to make sure that it fulfils the load-bearing requirements of a roof construction, for example.
At Borgstena, 75 million metres of planed timber is produced annually, the equivalent of 1.8 times around the earth!
Contact us
Vida Borgstena AB
Länsvägen 17
513 97, Borgstena
+46 (0)33-23 31 00