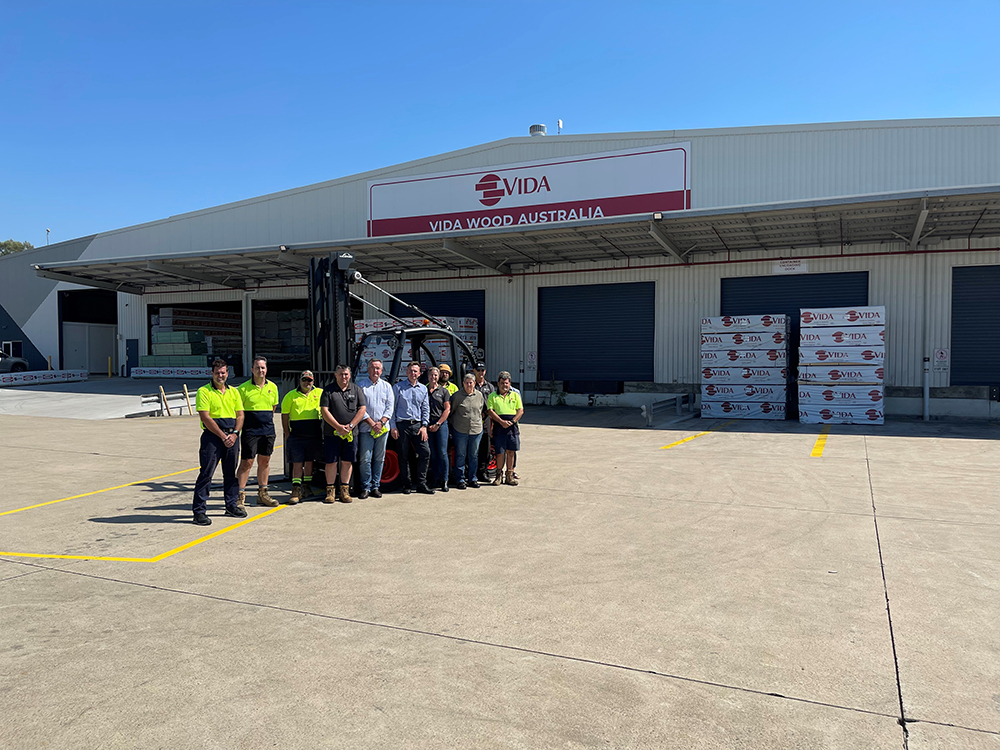 Vida Wood Australia
Vida is a global supplier of manufactured products from sustainable Swedish forests. Production is mainly focused on structural timber for a number of global markets. Eighty percent of our sawn wood products is exported to Europe, USA, Australia, Africa and Asia. Sawn wood products are managed through our sales company, Vida Wood, which has sales offices in a number of countries. One of these sales offices is Vida Wood Australia.
Vida Wood Australia's head office is in Brisbane, Queensland where we operate in a 12,000m2 warehouse that combines all sales and logistics. It is from this point in Australia that we coordinate every single one of our sales and logistics transactions across the entire Australian Eastern seaboard. Vida Wood Australia also has a third-party logistics set-up in Melbourne where we hold stocks and serve our market in Victoria.
The Managing Director of Vida Wood Australia, Kurt Schrammel, built the distribution company Vida Wood Australia from nothing. He is extremely proud of the footprint that has been created for Vida in Australia since its inception in January 2015.
"It was such a great privilege to build a distribution company from the ground up on the other side of the planet. Vida's product range and management have been of great support in making this project, which is now a force in Australia, a true success story," says Kurt Schrammel.
One of the biggest challenges when working for a company from the other side of the globe is to manage the time difference meticulously, while balancing the challenges of logistics along with lead times. Traditionally, under normal circumstances, any product that is shipped from Sweden to Australia has a lead time of 2-3 months, which means forward thinking is paramount for businesses.
Kurt and his team of 15 employees in Brisbane handle the entire supply chain – from direct ordering from our mills, to customs clearance, container unloading, warehousing and deliveries to customers.
At Vida Wood Australia we have a sophisticated distribution system in place – from breaking packs into smaller units, to trimming and pressure treatment. Our model serves customers in Brisbane, Sydney, Melbourne and Adelaide, and manages direct container shipments to Perth, WA. Australia is a vast country with long distances between its metropolitan areas, but we manage this well.
In our Brisbane warehouse we have a docking/trimming saw which gives us flexibility for DTL requirements for fabricators. This is complimented with a 13-metre T2 pressure treatment plant which enables us to add value and control our inventory levels. Over the last 24 months we have also started to integrate our North American products from Canfor into our portfolio, which has meant we have started to build a combined brand. Vida Australia has a streamlined process, and our goal is to produce and source the right products while offering the best service to our customers.
"Besides being able to work with timber and interact with many different nationalities, the very best thing about my job is all the Vida people. We have a great team of people working for Vida in all countries and it is fun to collaborate and achieve our goals together. The team in Australia has a "can-do" attitude and our people are certainly our biggest asset.
Ian Brett and his team head up our administration, logistics and warehouse. Jacinta Colley and her team head up our sales, marketing and branding. Mick Dixon looks after our Queensland customers. Trevor Dixon takes care of our Melbourne sales and stocks. Patricia Bressow oversees office sales and customer service. Alicia Nagle is our accountant. Tanya Peut works with general administration and invoicing. Malinda Dalzell deals with customs and import documentation. Under the supervision of Trevor, Tony Ambrosini runs our Brisbane warehouse together with our warehouse and forklift staff Peter Caldwell, Jacob Eussen, Robin Mahuika, Sam McBride, Ryan Phillips and Scott Green," explains Kurt Schrammel.
Location: Brisbane, Queensland
Number of employees: 17
Main products: Construction timber for house frames and roof trusses.
Primary customers: DIY market, truss industry and home builders.
Sawmills that produce for Australia: Vislanda, Alvesta, Vimmerby and Orrefors.