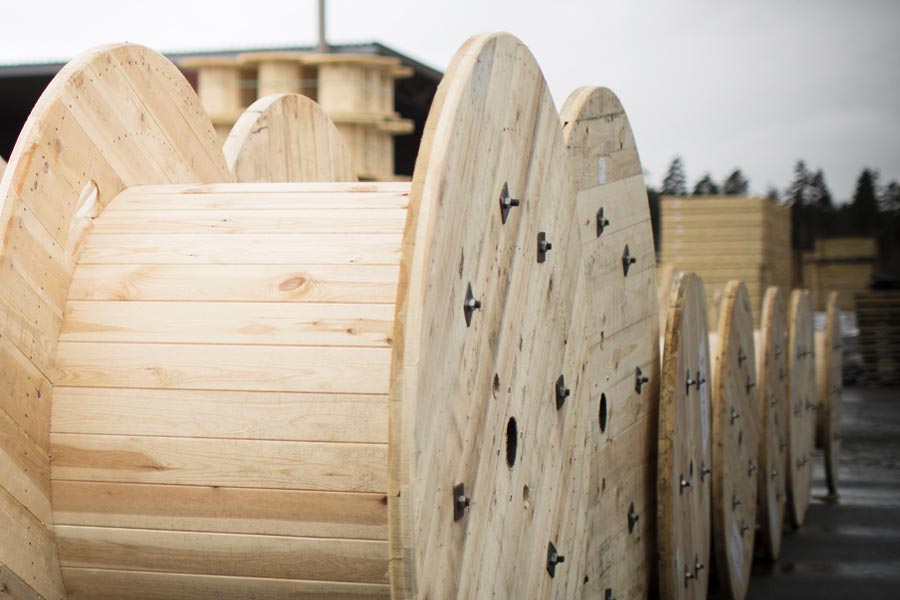 Export of cable drums all the way to Africa
Vida Packaging is Sweden's leading and most advanced manufacturer of cable drums. Through a network of production facilities and a wide product range, we offer our customers customised solutions for each individual need. Close proximity to Vida Group's sawmills ensures stable and secure availability of raw materials, making the company a reliable long-term partner to its customers. The drums are delivered throughout the whole of Europe, either fully assembled or in kits for self-assembly on site.
Prysmian, the world's largest cable manufacturer, is one of Vida's major and strategic cable drum customers. Vida is working with Prysmian on an ongoing project which involves a large quantity of cable drums being shipped to Angola in Africa. The project is part of a large solar park development in the country, encompassing seven solar plants with approx. 1 million solar panels being installed.  These are estimated to be able to produce 370 MWp, which is the equivalent of powering some 2.4 million homes in Angola. The project is focused on creating clean energy and aims to save 935,000 tons of CO2 each year.  The seven project sites are named Biopio, Benguela, Saurimo, Lucapa, Luena, Cuito and Bailundo.
The cable drums from Vida were specially designed for this project to make the most of the space within a shipping container. Based on the customer's technical specification for capacity, weight load and sustainability, Vida created a very cost-efficient drum, from both a materials and logistics perspective. The major advantage of the drum is that is has been optimised for the actual cable length and has a decreased width, which allows up to 10 drums to fit in a shipping container.  This significantly reduces the transport costs.
"By using the maximum volume within the shipping container, we were able to reduce the total number of containers needed for shipping our products to Angola.  Not only does this create value for the customer from a cost perspective, but it is also good from an environmental view," says Andrew Neil Gaddas, Project Manager at Prysmian Group.
The drum was designed and calculated according to the customer's needs by Staffan Levin, a Vida Packaging salesperson, and subsequently tested in Prysmian's factory. The drums are manufactured and assembled at Vida Packaging in Hestra.
The project has so far run very successfully. Shipping to the two largest project sites is complete and work  will soon begin on the remaining five sites. The project is expected to be completed by the end of 2022.
"The cable drums from Vida have been perfect. The quality of the products have been very high and the feedback from the factory has been very positive," says Andrew Neil Gaddas.
Vida is also very satisfied with the collaboration and perceives that both the local and global feedback from Prysmian has been professional. This year, Vida's production for Prysmian has continued to grow and Vida currently delivers to eight of Prysmian's factories in seven countries.