Vida's sawmill in Urshult saws and planes 4.9m-long spruce timber for use as structural timber. The main markets are UK, Japan and USA.
Number of employees: 50 employees
Production of timber per year: 170,000m3 (14 -15 loads per day)
Planed per year: 125,000m3
Markets:
• 60% UK
• 15% Japan
• 15% Germany
• 10% Other export incl USA
Intake, measuring and sorting
Measuring and grading form the basis for pricing and payments to forest landowners. The logs are checked, measured and graded by Biometria. Every day, 30 – 35 lorries carrying 4.9m-length spruce timber are received, which is the equivalent of 1,500m3 solid under bark per day.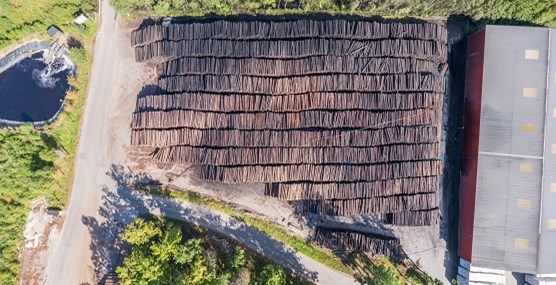 Sawing
First the logs are de-barked so that they are clean wood, and optical 2D measurement is then performed on every log. The measurements are used to calculate how the stock should be sawn to extract the maximum value. Sawing takes place in 3 different sawing groups and the sawn timber is transported along conveyors to a sorting facility where different dimensions end up on different trays. The sawing line can process up to 10 logs per minute, which generates approx 850m3 of sawn timber per day. 70% of the volume of the logs becomes timber, 20% becomes cellulose chips and the rest is bark and sawdust. The by-products (bark and sawdust, 10% of the volume) are used by Vida Urshult's own thermal power station, and the cellulose chips (25% of the volume) go to paper manufacturing.
Drying
The timber is stacked with sticks (wooden pieces) placed in between each layer to allow airing. The timber packs are driven by truck into the timber kilns where fans blow 80-degree warm air around them for 2 – 3 days. The relative moisture level thereby drops from 100% to 18%. Vida Urshult's thermal power station provides the heating and the air is efficiently heat-exchanged.
Planing
The dried timber still has a rough surface so it is planed to provide fine, flat planks. The planing machine can process 175 metres per minute, which generates 35 million metres of product annually (the equivalent of 88% of the circumference of the earth). The planks are either sent directly to the customer after being wrapped in protective plastic, or they are sent to be impregnated for water-resistance. The planed wood shavings, by-products, are used by Vida Energy and converted into heating pellets.
Contact us
Vida Urshult AB
Hunnamålavägen 14
362 54, Urshult
+46 (0)477-556 00