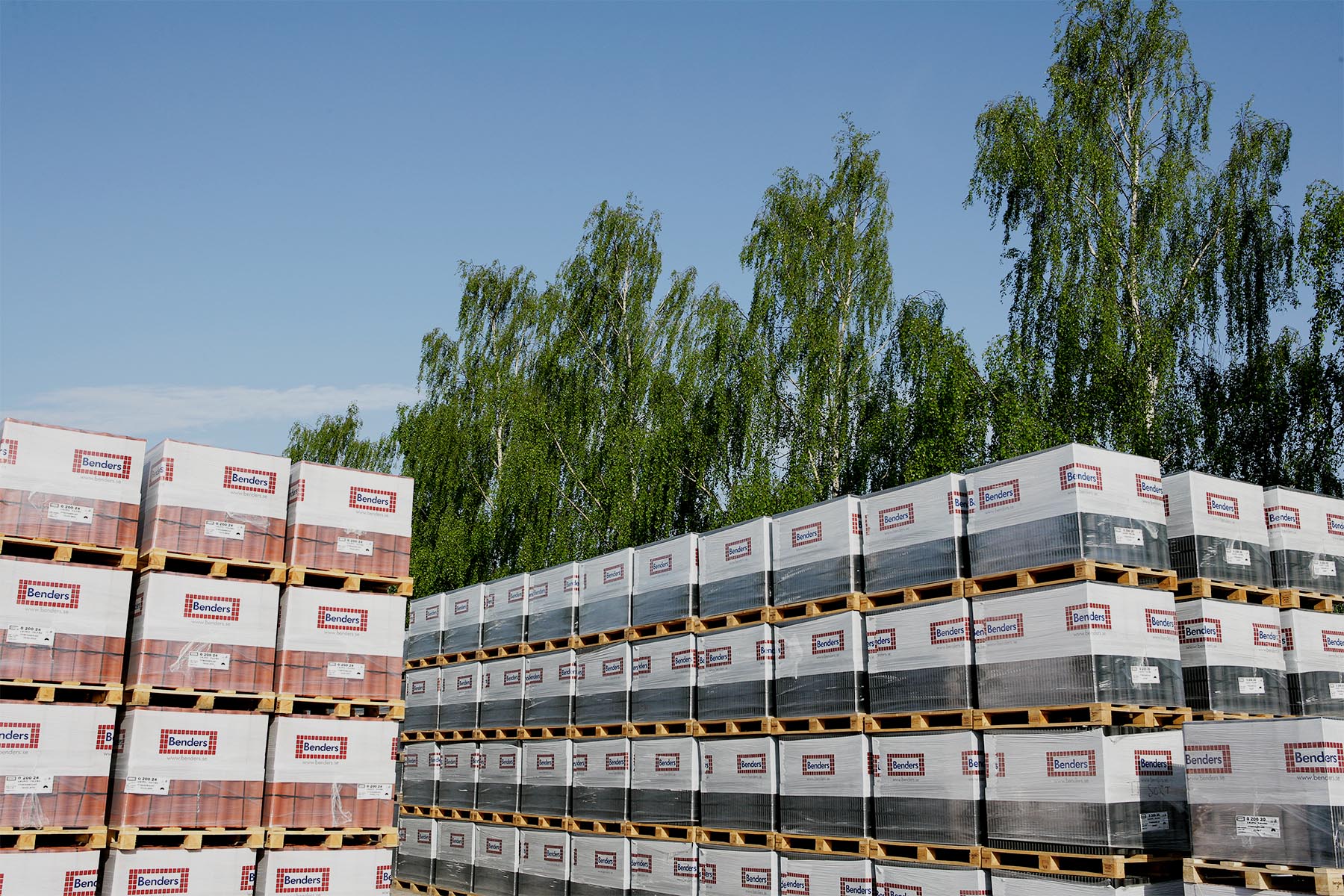 Wood pallets are the only choice for Benders
Sometimes standard sizes just aren't enough to meet the demands placed on a pallet. Which is why some companies choose to invest in their own deposit return system for pallets and packaging products. One company that has done just that is Benders.
Benders is a family-owned business that was founded in 1960. At that time, the company made concrete tiles. Today, Benders is a full-service manufacturer and supplier to the building and engineering construction sector.
By creating its own deposit return system, the company optimises product protection during transportation, safety during roof-lifts and the degree of packing for transportation, thus also reducing its environmental impact. Benders uses specially customised pallets to fit significantly more products in the load, and thereby reduce its CO2 emissions. The properties of a wood pallet also enable it to bind CO2 for its entire lifespan.
"There are several reasons that led us to invest in our own pallet return system. First, we have chosen to place our products a bit further in from the edge of the pallet so that the products can be handled by fork-lift trucks without being damaged. We export a major portion of our products and we also ensure pallets are returned from the countries where we have own subsidiaries. Finally, we roof-lift a lot of our deliveries so the pallets are transported directly back to our factories in the same lorry that delivered the products," says Lars Knutsson who is a purchaser at Benders.
Overall, Benders has a very high level of returned pallets, which has meant that they also send Benders Pallets to foreign suppliers of their products to use for packaging. This further increases the usage rate of returned pallets.
"Benders places high standards on its suppliers in terms of quality and reliability of delivery. Vida supplies high-quality pallets and they always deliver on time to our factories. We choose Vida also because it is a stable market player that has competitive prices," Lars continues.
Lars explains that Benders sees the wood pallet as currently the only and best option for delivering concrete and natural stone products.
"There are many reasons behind our choice of wood pallets from Vida. The friction between the material, pallet and the truck forks is important, and goods stay still and very stable on a wood pallet. Having a return system, which means we can use the same pallet several times, is both financially and environmentally beneficial. The system for repairing broken pallets works easily and, last but not least, handling for fork-lift trucks is simple," concludes Lars.